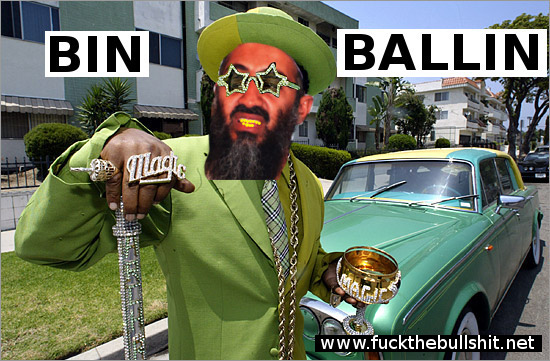 Am I the only person who cares that Osama has been in retirement, in a mansion, in a modern city, with wives and all the American junk food he could handle this whole time? THIS IS THE STORY and by my standards the story is MISSION FAILED. The news is gawking and salivating at the current events instead of doing their job, as usual.
THINGS THAT DON'T MATTER
Who did a good job?
We have the best trained and most well equipped special forces on earth. A whole branch of the military full of nothing but "Jason Bournes", "Chuck Norrises" and "Rambos". What happens when we send about 20 of them to kill an old man in a silly white robe and a couple friends with AK-47's. This is what they do. They probably did this to warm up for some real dangerous mission later.

Fantastic work AS USUAL!, but this is not the big story.

Obama: Go find Bin Laden

CIA: OK

Obama: Go Kill Bin Laden

CIA: OK

Tough decisions. Yeah good job Obama, also not the big story.
What effect will this have on Al Qaeda? Imagine what would happen to McDonald's without Ronald. Nothing. Still kills you. I don't even know what the hell Al Qaeda is. If I decided today that I hate America and start praying to Allah, I think I would be an Al Qaeda; but I'm not sure.
WHAT DOES MATTER
This was not about stopping terrorism anymore. It was about justice. The news now says that Osama was not "armed" but did "Resist". I don't know about you but I wanted a trial and a HANGING! That's what we do. These Navy Seals specialize in hostage situations and are specifically trained to not shoot unarmed people. As more of the story comes out it keeps changing. It is becoming clear that taking him alive was not a priority which I find very disappointing in terms of "justice". I like to see criminals answer for their crimes.
Now the news is starting to ask how its possible that Pakistan didn't know. Why do we expect anything but this from them? They have the worst track record on terrorism. I say we get our 12 billion in aid(bribes) back and call it even. I have a better question. HOW IS IS POSSIBLE THAT WE DIDN'T KNOW? This is not conspiracy, its common sense. You have to believe that WE suck or WE are lairs. I'm not pushing one over the other.
Wipe the smirk off your face America, we're looking dumb. Something stinks! I'm not really expecting answers just some acknowledgment of the smell.